Okay, so I was in a chemistry class yesterday, and we were looking at the periodic table.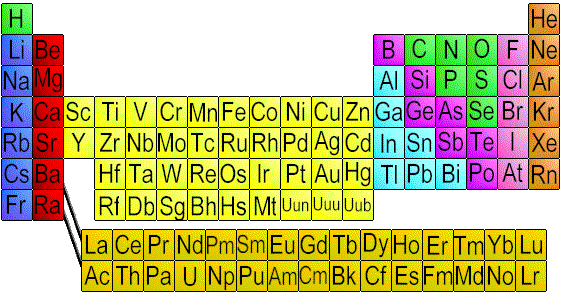 This is not the actual version. So I was scanning through randomly when I realized that gallium and germanium, were differently coloured. They're not in the same category of elements. This made me,
sad
for some reason. And it dawned on me.
I've given these substances personality.
There's the buddy brothers Gallium and Germanium. Jerkass arsenic and nice guy Selenium. I tried to come up with a few more. Carbon is a down-to-earth hero with a close set of true companions in the form of Hydrogen, Boron, Nitrogen and Oxygen. Their society is protected by the aggressive police force the Alkali Metals, who keep the forces of Halogens at bay. The rulers are the stoic Noble Gases.
How is this for a premise? Obviously it won't be this literal (the main hero's name isn't going to actually be Carbon), but a universe whose people work like the elements. You guys, feel free to pitch in ideas.